Fridays - 6:30-8 PM*
(*Note new club end time)
Resumes September 17th
AWANA is an international, nondenominational, Bible-centered youth organization. AWANA stands for "Approved Workmen Are Not Ashamed" from II Tim. 2:15. The heart of AWANA is the gospel message. AWANA strongly emphasizes memorizing and understanding Scripture – all while having fun doing it!
Face masks will be required to be worn at all times by all leaders, students, parents and visitors while in the building regardless of vaccination status.

***This year, all class sizes will be limited to allow for social distancing. Registration is based on a first-come, first-served basis.***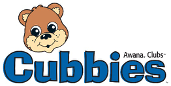 Cubbies (3 & 4 year olds)
***Children must be 3 years old prior to September 1, 2021 and potty trained.***
Sparks (Kindergarten through 2nd grade)
Truth & Training also known as T&T (3rd through 5th grade)
Trek (6th through 8th grade)
Journey (9th through 12th grade)
$40 per child
(Cash or Check made payable to SCBC)
Fees will be collected at the check-in table on your first night of AWANA.
(Registration fee covers the handbook, but not uniform)
Handbook (included in the registration fee)
Uniform: Cubbies $12; Sparks $12; T&T $18; Trek $18; Journey $18
Optional: Handbag for Cubbies or Sparks $8
Parent Participation Requirement
Due to limited staff resources, all parents will be required to volunteer once a month. An online sign-up sheet will be sent via email to pick your volunteer nights.
Based on club or staff needs and COVID restrictions throughout the year, all program details are subject to change.
For more AWANA information...
...please fill out the form below.
We'd love to share more about the AWANA ministry with you!